There is a Chinese proverb "A good start is half way to success." – this is true for those who wish to enrich their knowledge and engage in learning for life. Education has long been a passion of mine and our aim at HKCAC is to equip our students with the knowledge and skills to reach the heights of their profession.

The HKCAC continues to attract and retain outstanding faculty and administrative personnel who are well respected in their fields. We offer a challenging intellectual environment with programs in many areas of study. Opportunities for involvement in innovative industry projects and life enhancing community service are a core concern of our school. Education at HKCAC is not only knowledge delivery, but also an avenue for inspiration. Students at HKCAC have an environment to stimulate inspiration, and also have the advantage to explore East meeting West, and be at the Gateway to China and Chinese culture.

HKCAC is strongly committed to broadening students' learning experiences and providing high quality education to local and international students. For all students, it is our aim to provide academic programs that broaden students' exposure and enrich their learning experience.

HKCAC is Hong Kong's leading provider of vocational training for international students, and offers courses from diploma to degree level. Students from France, Spain, Italy, Britain, South Africa, Korea, Brazil, Indonesia, India, Thailand, Philippines, Singapore, Japan, Australia, Holland and the United States of America have taken the opportunity to study with experienced and acclaimed teaching professionals in a wide variety of disciplines.

The future of students at HKCAC and the college is bright – students enjoy instant recognition as those with practical industry skills and grounded theory, and the college's future is burning brightly with a serious dedication to post-secondary and higher education. The HKCAC has enjoyed many achievements over its 25 years of service to the international education community, and is about to embark on the achievement of Private University status.

I wish you every success in your future endeavours.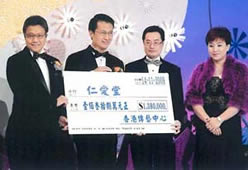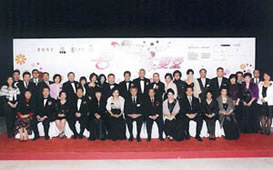 Principal Eng attending the Yan Oi Tong Fundraising Event.